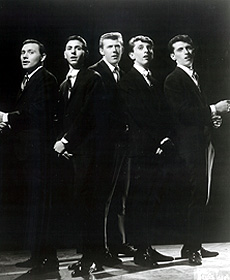 RANDY & THE RAINBOWS - "DENISE"
The group was formed in 1962 in a neighborhood of Queens. They recorded with the producers of The Tokens, releasing the single "Denise" in 1963. The song hit #18 on the US Black Singles chart and #10 on the Billboard Hot 100 that year. "Denise" was written by Neil Levenson, and was inspired by his childhood friend, Denice Lefrak.The song later became a European hit for Blondie, with the title changed to Denis.
From 1977 through 1980 they recorded as the group, Madison Street, making their mark on the Adult Contemporary Charts with the songs "Minstrel Man" and "A Simple Love Song", both written by Neil Levenson. Their disco record, "Hey Look Who's Dancin" recorded for MCA , was well received by critics and in the clubs. In 1982 and 1985 they recorded concept albums for CBS and Rounder which spawned a PBS special featuring the group. In 1988 they began their association with Jimmy "The Wiz" Wisner that continues to this day. Randy & The Rainbows and their band are regarded as one of the most versatile and polished acts performing today and have been co-billed with The Spinners, Blood, Sweat & Tears, The Grass Roots, Gary Puckett and The Mamas and The Papas. In the fall of 2007 the group scored on the FMQB Adult Contemporary Charts with the Four Seasons tribute, "The Boys From Queens Salute the Jersey Boys" which peaked at #25 for 9 weeks. In June 2007, "Denise" was prominently featured in the final episode of the HBO series, "The Sopranos".