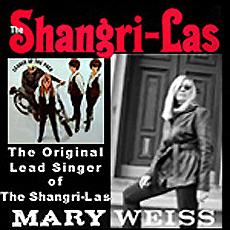 MARY WEISS - SHANGRI-LAS
Mary WeIss found fame in the 1960s as the lead singer of The Shangri-Las. Between 1964 and 1966 The Shangri-Las charted with often heartbreaking teen melodramas and remain known for "Leader of the Pack" and "Remember (Walkin' in the Sand)"
The Shangri-Las' 'tough girls' persona set them apart from other girl groups.The Shangri-Las continued to chart with fairly successful U.S. hit records, specializing in adolescent themes such as alienation, loneliness, abandonment and death. In March 2007, Norton Records released Dangerous Game, a critically acclaimed solo album by Mary Weiss (backed by The Reigning Sound). She has been performing in the United States, Spain and France and is working on a new album for 2011.